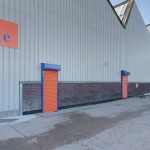 A well-established storage company in Kirkby can help you with your storage problem. If you have simply run out of space in your home for all your belongings, choose a storage company that offers a range of different sized storage units. This will make a huge difference in your life. No longer will you have to unpack and repack boxes to try and make more space in your home. It is likely that you have items that you cannot part with. This when a storage facility is of huge benefit.
Give us a ring to find out more. In Kirkby, a storage company understands the importance of safe, secure and dry storage options. We offer a number of different sized storage options, all of which are ideal for storing your personal belongings. Our premises are protected with 24-hour CCTV. When you hire a storage facility from us, you will also be the only key holder, adding to the security of the contents. Our storage units are clean, dry and best of all, affordable. You are welcome to store anything in our storage units, so long as it is not illegal, perishable or alive. You won't have to worry about your collections taking up much needed space in your home and garage.
A storage company in Kirkby offers affordable and secure personal storage options to suit your needs. Contact Terry Lunt Storage today and find out more about our available storage units. It is easy to hire a storage unit from us.  You'll need proof of address – a utility bill will do, as well as a photographic ID, and a signed copy of out terms and conditions. Once you have chosen your storage unit and paid the deposit, you can bring your items to store. We also have trolleys and packaging available to make the transition easier. Should you need a larger storage unit in the future, it is also an easy process to arrange. Keep your personal belongings in a safe, secure environment and free up space in your home.