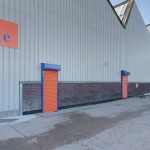 Self storage options in Knowsley mean more usable space in your home. If your storage space is becoming a real problem in your home, choose a facility that offers different sized storage units. By making use if such a facility, you'll be able to free up needed space in your home. You will also be able to keep your belongings without having to dispose of them. You are likely attached to some of your collections. Using a storage facility that offers self storage options is a great idea, and means that your collections will be safe and secure.
For memorabilia collectors in Knowsley, self storage options are available in different sized units. Speak to us at Terry Lunt Storage to find out what your options are. You can choose a small unit if the space required is little. Or, choose from our larger units if you have a great many things to place in storage. The great thing is if your chosen unit proves to be too small in the future, it is easy to upgrade to a large storage unit. Our prices a good too. We offer a price promise in that you won't find better prices, or services, elsewhere. All our storage units are safe, secure, dry and well lit. On top of that, you will be the only key holder, further adding to the security.
Self storage options in Knowsley can relieve anxiety about where to put your collections. If your wife has put her foot down, don't panic. Remomber Terry Lunt Storage for great self storage options. Contact us today to get started. We have many years of experience and are certain we can assist you with the best storage unit for your needs. Leasing a self storage is easy too. All we need is photographic ID, your proof of address, a signed copy of our terms and conditions and electronic, cash or cheque payment. We can also provide your lock for a small fee. Free up much needed space, avoid the wrath of your wife and choose from our self storage options today!