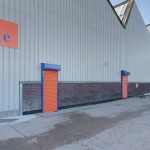 Why would you need safe storage in Knowsley for your personal belongings? If your garage is filled with boxes of treasures from years past, it is perhaps time to consider an alternative storage space. It is worth considering, especially if the space for your car is limited. When you use a storage facility, you will open up the space you need in your home, while knowing that your treasures are safely stored, out of harm's way. If you are wondering where you can find safe storage for your possessions, remember Terry Lunt Storage.
We are pleased to offer a range of different sized storage options. In Knowsley, safe storage is available at competitive process. We firmly believe that we cannot be beaten on price and the services we provide tick all the right boxes. All our storage units are safe, as our premises are monitored by CCTV 24 hours a day. You will have your own key for your storage unit, further enhancing safety. Our storage units are clean and well lit too. You can choose from different sized storage units and pick one that will meet your specific requirements. On offer are smaller units, ideal for the excess from your garage. If you need more space, we can provide units ranging in size from 25 SQ ft right up to 200 SQ ft. We now also offer 35 SQ ft units.
Safe storage in Knowsley is an excellent solution to your space dilemma. You are welcome to store anything you need, as long as it is not illegal, perishable, flammable or alive. If you would like more information on how we can assist you with safe storage, contact Terry Lunt Storage today. You are also welcome to request a free quote. Our prices are competitive, and the price you will pay is dependent on the size of the storage unit that you hire. If you are having a hard time deciding on the best size to choose, we also a handy size calculator on request. As a family run business with over 40 years of experience, we are pleased to offer our services to all our clients who need a little extra storage space!