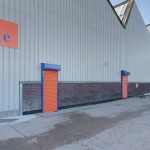 There are several ways business storage in Sefton can benefit all types of businesses. At Terry Lunt Storage, we welcome business storage whether it's short term or ongoing. Many of you are small business trade contractors. You work from home or a small office space. With modern technology, you can literally run your business from your truck using your smart phone and/or laptop. Most everything you need daily is readily available right on their truck. Additional materials are purchased from the supply house on your way to the job site. There is nothing about your business to warrant paying high overhead costs to lease extra space. But it would be nice, wouldn't it, to have a place to store equipment you only use occasionally?
Medical and professional workers may carry out their workday within offices, large and small. However, in Sefton, business storage space may be scarce. We can offer you that extra space for storing unused furniture and equipment, older files and supplies. Offices in transition may need temporary storage during the relocation process. Office refurbishment may go more quickly with all furniture and equipment removed until completion. We have clean, secure, dry units from small to very large. The facility is well lit at all hours and protected by video surveillance. Access is easily available every day of the week. Your materials, whether wood, metal, paper or electronics are safe from harmful elements.
Business storage in Sefton could not be easier than with us. The first month is free and our regular rates are competitive. For certain it's a lot cheaper than what you would pay per square foot for leased space. Nobody but you will have a key to your storage unit. When you come in with items to store or to remove items, there is usually someone to lend a hand if needed. We have hand carts about for the heavy items. If needed, we have removal trucks and drivers to transport your goods to your storage shed. Contact Terry Lunt Storage for more details about our storage options. We'll be glad to show you around and provide all the information you need to make a wise decision.