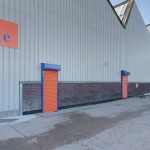 For a reliable storage company in Kirkby, get in touch with us at Terry Lunt Storage. One of the first things that we provide our clients looking for storage solutions, whether temporary or long-term, is security. We understand the need to protect the possessions of our clients as well as their privacy. This is we have CCTV cameras monitoring the premises, and each unit is secured with your own padlock. We have different sizes unit available and you can pick the one that is most appropriate for your storage requirements.
Whether for personal or business, rest assured that all your belongings will be safe in our storage facility. In Kirkby, our storage company is well known for its quality service and amazing prices. Of course, the price that you will pay will depend on the size of the storage unit that you need, and our facilities are based on a pre-pay basis. If you are not sure what size unit you will, don't worry, we can provide you with an easy size estimator that will allow you to settle on a unit that will suffice for your needs. We are open every day, however, if you need access to your storage facilities outside our normal working hours, we can make arrangements if you let us know ahead of time. To get started, you will need to bring a photo ID, a proof of address, your own padlock, payment which can be effected by debit or credit card, cheque, cash or bank transfer, and a copy of our Terms and Conditions duly signed and dated.
Our storage company in Kirkby guarantees a high standard of service that ensures all your goods are securely stored and monitored 24 hours a day. Whether you are a domestic client looking for a temporary solution or a business that needs to use our storage facilities until you have completely relocated to your new address, we will be glad to provide you with storage solutions. When you are looking for an established storage company, contact Terry Lunt Storage. We cannot be beaten on price or service.