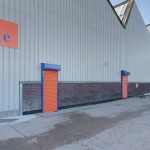 Our safe and secure storage company in Litherland is a boon to people moving house or needing to keep various pieces of furniture or other items in storage temporarily or permanently. There are always items that you are not sure of and do not yet have place for in your new home. Many people take a while to redecorate their new home in a style that they find attractive. Your excess furniture can wait in secure storage while you decide on the decor you want. You may be having your home redecorated and need somewhere to keep your furniture safe while the painting and flooring contractors are busy. A self storage room is perfect for short term rental.
If you move and cannot fit all your furniture into your new home in Litherland, storage company units are available at our secure storage facility. If you are a business and have a lot of documents and papers to store you may want to hire a unit as an archive. With shelving and boxes you can keep all your business records together until the proscribed time has passed and you can legally destroy them. You can access the storage units at any time of the day or night and remove or add to your items at will. If you find that the original unit has become too small for all your documents you can upgrade to a larger unit at little extra cost.
We are a storage company in Litherland and are reasonably priced with a variety of different sized storage spaces. Contact Terry Lunt Storage today and arrange to hire one of our safe storage areas. You will be the only person that has a key and the length of rental can be for as long or short as you need. We have made sure that they are well lit and are under surveillance by CCTV cameras at all times. We have free trucks and trolleys to help you manoeuvre your goods in and around your chosen storage room. We can also supply a large selection of packaging materials to ensure your goods are protected.