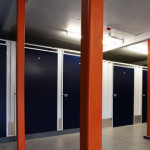 If your office storage room is overflowing, business storage in Liverpool is available at Terry Lunt Storage. Some hard copies of document files have to be retained for a certain number of years. It's not likely that anyone is ever going to need to see that hard copy, but if there are tax issues or legal considerations that arise five years down the road for either you or your client, you need to be able to produce the original document. So, the space you have available on site is where you want to keep your most current paper files organised. You might need to access those files to change or add to more than the old ones. Most companies today maintain digital files so the information contained in them is easily accessed. Still, you need the paper and we have the solution for you at our storage facility.
Our self storage units are available in 25, 50, 75 and 100 sq. ft. sizes. For peace of mind in Liverpool, business storage of documents are safe, secure and dry at our self storage facilities. We are protected 24/7 with CCTV surveillance, monitored alarm system and well-lit areas. You are the only one with a key to your unit. We do not keep duplicate keys. We can supply you with archive boxes in which to organise your files. We don't mean to imply that only business files can be stored. The storage unit is yours to store whatever you want, including excess office furniture, supplies and equipment. For your convenience, we also offer free removal services to transport your storage items from your facility to your storage unit.
You may or may not need frequent access to your business storage in Liverpool at Terry Lunt removals and storage. We are open seven days a week. Access is easy for bringing items in for storage or retrieving them if needed. We make it easy for you to do that and to keep your unit organised with the free use of trucks and trolleys to move your goods in and out or manoeuvre them about within the storage unit. Contact Terry Lunt Storage for safe and economical storage of business files and equipment. We won't be beaten on price and remember, the first month is free for extended users.