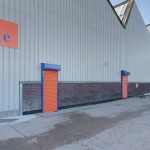 A storage company in Knowsley may be just the solution for all your extra, non-essential household goods. Not only does it save you space, but it helps to declutter your home – which in turn produces less stress and more happiness. For a lot of people, removing unnecessary items comes with a lot of benefits. These could include a happier outlook, saving more time when having to search for an item, quicker and much easier to clean and future mindful purchasing. As such, if you have kids that have just moved out or you are simply in a mood to declutter, you may want to take advantage of our storage facilities.
While some items may be of monetary value and can be sold, others may be more of a sentimental value and you may wish to keep them. In Knowsley, our storage company is well-known for providing secure services at reasonable prices. Our storage facilities are of different sizes and prices to fit your needs and budget. And if you will be storing with us for a long time, you can profit from our low prices. Moving to a new home can be the fresh start you need. It's a chance to declutter your home. Or, if you are just spring cleaning, it's a good idea to separate the crucial items you will need and those you won't and keep the rest in a storage facility for later use. Our storage units are all clean, well-lit and safe. In addition to this, we have free trucks and trolleys to help you move your goods around.  We also have 24-hour CCTV on the premises to ensure extra security.
If you are looking for a reliable and safe storage company in Knowsley, our team at would be pleased to assist you. For any further enquiries, contact Terry Lunt Storage. Renting of the storage units is on a pre-pay basis only, and you will need photo IDs, proof of address, and a signed copy of our T & C's.