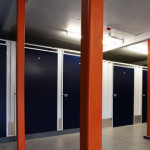 Terry Lunt Storage offers the finest facilities for personal storage in Kirkby at unbeatable prices. With secure spaces starting at 25 square feet and extending incrementally to 200 square feet, we can accommodate almost anything you want stored. But how do you know how big of a unit you need. We can help you with that. If you have boxes of unused clothing, books, boxes with old tax returns or archived business files then 25 sq ft is big enough for you. A 50 sq ft unit will hold the contents of your dorm room including your bed, desk, chairs, microwave and mini fridge. You can fit the contents of a one bedroom apartment plus miscellaneous seasonal sports equipment into a 75 sq ft unit. For a two-bedroom apartment choose the 100 sq ft unit and for a three bedroom you will need the 150 sq ft size. 200 sq ft units will fit furniture from four bedrooms with room to spare for smaller items.
You can safely store anything at Terry Lunt Storage except flammable products, food and living things. In Kirkby, personal storage at our facility is secure. You have the only key. The public areas are monitored with closed circuit cameras and security lighting. You can access your storage unit any time during open hours seven days a week. Our storage units are dry and sealed. We take pride in providing safe, clean and dry storage for your goods and we are available to help when needed.
We all collect more stuff than we can use and it's always nice to know affordable personal storage in Kirkby is available. There are some things we want to hold on to. If they are valuable entrust them to our clean dry storage units instead of damp basements or garages. Contact Terry Lunt Storage and tell us what you need stored. Office equipment and years of old files are safe with us as is baby clothes and photos. The units are leased month to month with the first month free. You have no long term commitment but the unit is yours for as long as you need it. Your privacy is protected and no one at Terry Lunt Storage has any kind of access to your unit.