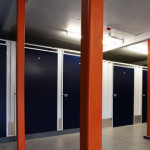 When you run out of storage solutions in St Helens at your place, we have room at ours. Terry Lunt Storage has as much space as you need and your belongings will be easily accessible. When your kids grow up and leave home, you may lack the confidence to believe they won't be back.  One way to discourage that is move all the belongings they left behind into our storage facility. A word of warning; when your kids discover all their old unused stuff is gone, they will panic. You have loosened their anchor and they are fearful. Don't worry though because it could be months, even years, before they notice their little league equipment bag, Barbie Doll collection and fifteen years' worth of commemorative t-shirts are gone. Go ahead and pack it up. At Terry Lunt Storage, we'll even come and move it to storage for you.
Once all the bicycles, ski equipment, boogie boards, roller blades, magazine and book collections are cleared out of your house, you can make plans. In St Helens, storage solutions at Terry Lunt come in all sizes. Surprise the kids on their birthday with the gift of a paid receipt from Terry Lunt Storage instead of the usual birthday cheque. We all tend to accumulate things we no longer need but are not ready to part with. Maybe your only storage is in your damp basement. You don't want to put your treasured books, photos and more down there to mould. The same is true of furniture you are saving. Our storage units are dry, clean and secure. The area is well lit and we have security cameras on site. You will have access to your belongings seven days a week. Only you will have a key to your storage unit.
Our storage solutions in St Helens range from 25 sq ft to 200 sq ft. We have the solution for where to store your belongings while you are temporarily out of the country; downsizing your home or need space to stock and store business supplies and tools you only use occasionally? We have the storage solution for surplus office furniture and equipment as well as safe archiving of sensitive files. Contact Terry Lunt Storage with your storage problem and we promise we will have your best solution at an unbeatable price. Choose short, long term or indefinite month-to-month storage space rental with the first month free. You can trust Terry Lunt Storage for excellent customer service.