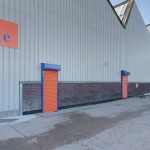 Do you need safe storage in Knowsley to keep your goods as you are moving to smaller premises? In today's modern world, people are moving more often than not for work, students move out of hostels at the end of every academic year and people move in with their partners. While you are in transition, you will need to find someplace safe and big enough to keep the pieces of furniture that you cannot bring home just yet. In the hope of moving into a bigger place, we are happy to provide you with the storage space you will need in the meantime.
For those moving to another home in Knowsley, safe storage is available at Terry Lunt Storage. We are currently providing discounted storage options if you are planning to rent storage space for at least three months. The first four weeks are completely free. Our storage space is of varied sizes ranging from 25 square feet to 200 square feet. They are clean, well-lit and most importantly, under 24-hour CCTV surveillance. To make the process of moving your goods to the storage unit much easier, we have trolleys, trucks and packaging materials that you can use. We advise our customers not to store anything that is highly flammable, illegal, alive or perishable. If you are not sure about something, you can always discuss with us first. If you are not sure about the size, speak to us and we can provide a size estimator to guide you. Please note that you will have to pay for the first three months (of which one is free, thus two months) upfront.
Our safe storage in Knowsley makes it easier if you are moving. You do not have to carry everything all at once. You can take the necessary items first and then come back later for the rest. Contact Terry Lunt Storage if you need safe storage. For more details about the current promotions, do give us a call. Our clients are pleased that we understand their individual needs and that we always go the extra mile to give them the best service possible.