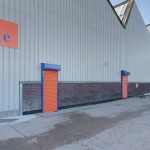 We can assist you with business storage in Litherland at Terry Lunt Storage.
We have storage space sizes from 25 -200 square feet. There are smart entrepreneurs managing businesses today that do not feel the need to pay exorbitant rent for warehouse space with an office and their name on the door. Their office is at home and in their vehicle where they keep their laptop and smart phone. Our storage space is their warehouse. The tradesmen have moved their materials, ladders and other equipment out of their garages and into our storage space. The E-commerce businesses have moved all their boxes full of product from their basement to a storage space. If you ordered 50,000 brochures from the printer, call us. We will pick up the 49,500 and keep them safe with the rest of your promotional items in a storage space.
Smart business practice says you keep your overheads low and hold on to your operating capital. For smart start-up companies in Litherland, business storage with Terry Lunt Storage helps you make that possible. It is not inconvenient at all. We have long operating hours each day so stop by and pick up whatever you need and drop off whatever you don't. If you need an extension ladder today or another 500 marketing brochures or the backhoe, it is all safely stored with us. It is safe for your goods and yourself. Our facility is well lit and protected by closed circuit cameras 24 hours a day. If you are moving heavy or awkward goods, use one our handy lorries or trucks. Our staff is available to help when you need an extra hand.
Terry Lunt Storage offers business storage in Litherland to accommodate your business needs. Move out of the garage, basement and high priced warehouse and get your first month of storage rental free. We will even help you move all of it with free local pickup. Contact Terry Lunt Storage today for more information about our convenient and affordable business storage facilities. We have units suitable for archiving with steady temperature and humidity levels. We do not have duplicate keys to your storage units. For security, only you have the lock and the key that will open it. We have been in business for forty years and have built a good reputation.