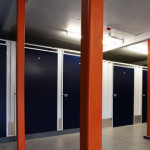 An option for personal storage in Maghull is available at our storage units. We all sometimes need a little extra space to store our belongings. If every available room in your home is being used, you may need more storage space. Perhaps a family member is no living in the spare room, or the space in the garage is being used to house a new car. Whatever the reason, knowing that there are options available can bring peace of mind. If you need extra space for your collections or belongings, give us a ring. We're happy to discuss the available options and help you choose the one that best suits your needs.
We have a range of different sized storage units. In Maghull, personal storage provides options that are suited to your requirements. From the smaller unit right through to the large unit, you'll have sufficient space in which to store all your possessions. Each one of our storage units is clean, dry and safe. You'll be the only key holder, and this increases the safety of the unit. You can store anything in your chosen storage unit. So long as it is not illegal, alive or flammable, it can be safely stored. Your matchbox car collection or your LP record collection is safe in our storage units. You can visit your storage unit whenever you want, whether it is to add more collectables, or to view them. We're open every day of the eek for your convenience.
Personal storage in Maghull means that if you want to sort through your LP collection, undisturbed on a Saturday afternoon, you can. Our storage units are a popular choice among homeowners and businesses alike. Moreover, our prices are cost-effective. For more details on how we can assist you with personal storage options, contact Terry Lunt Storage today. Our storage units are also monitored by CCTV 24 hours a day, ensuring that your belongings are safe. As our units range from 25 to 100sq ft, you are sure to find the perfect unit for your personal storage needs.