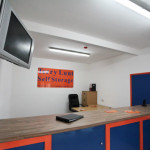 When you run out of space at your home, a storage company in Maghull can assist. We have the storage you need and you will be able to access your belongings easily. If you're wishing for more space, our storage facilities are perfect for your needs. Perhaps you're holding on to your children's belongings in the hope that they will collect them soon. From baby love doll collection to the Power Ranger collections, along with your own mementos from times past, the available space in your home is pretty much used up. We offer a range of different sized units, all of which are safe and dry. On top of that, if you need to upgrade to a larger unit, it is easily done.
You'll be able to store all the bicycles, dolls, cars and more in your choice of storage unit. In Maghull, a storage company provides the solutions you need. We all tend to accumulate things we no longer need but are not ready to part with. Our storage units are dry, clean and secure. The area is well lit and we have security cameras on site. You will have access to your belongings seven days a week. Only you will have a key to your storage unit. Free up the necessary space in your home and keep all the collections you can't bear to part with. An ideal solution to your storage problem!
Our storage company in Maghull offers solutions that are in different sizes. They range from 25 sq ft to 200 sq ft. Our prices are affordable, and when you hire a storage unit, you will have peace of mind knowing that all your belongings are safe. Contact Terry Lunt Storage with your storage problem and we promise we will have your best solution at an unbeatable price. Choose short, long term or indefinite month-to-month storage space rental with the first month free. You won't have to worry about whether your children will suddenly want their collection of dolls or develop a yen for viewing their Power Ranger figures. All that needs to be done is arrange a time for a visit and they can view their treasures at their heart's content.