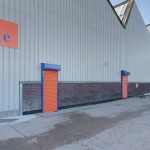 When you're looking for cheap self storage in Kirkby, you could end up compromising on the quality of the storage facility in order to save money. However, not every company sacrifices the quality of the service provided just because it offers a lower price. Making it cheaper only means making it more affordable for more people so that the guesswork of storing their items is eliminated. With cheap storage, you can keep your items on a long-term basis if you decide to go for a trip that may end up lasting a while or even have you non-essential items placed there while moving so that you can come back at a later time and sort them out.
Terry Lunt Storage provides quality storage facilities at prices that can't be beaten. In Kirkby, cheap self storage is available for people in both the domestic and commercial sectors. Our service is built on quality, ensuring we achieve customer service all through. It doesn't matter the size or quantity of your items: we have ample storage space to fit items that have been removed from a bedroom to those that have been shifted from a business block. You could be moving premises and need to store documents so as to leave room for an upgrade in your new business area. You could also be in a position of revamping your space by acquiring new furniture and need somewhere to keep the old one. Our storage facility has spaces as small as 25square feet to those as large as 200 square feet.
For more than 40 years, we have been providing cheap self storage in Kirkby. Thanks to our customer service, we have managed to build a reputation in the area that enables people to know their items are safe with us. If you need storage space, do not hesitate to contact Terry Lunt Storage. We offer a friendly, helpful and professional service that goes above and beyond our customers' expectations. With clean areas and 24-hour surveillance in the premise, you can't go wrong when you store your possessions with us.