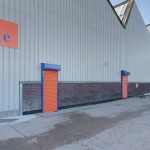 Self storage in Bootle is the best storage deal available. It's no accident; we made it our goal to meet the requirements of our customers. Whether business or domestic, everybody wants the same things in a self storage facility. They want clean, dry, safe, accessible and affordable. Have a look around our place and you will see how clean and spacious our facility is. Look close; you won't see any water marks within any of our units and no musty odour. The whole area is very well lit which makes it comfortable and safe to function in. Look around and you will see we have a closed circuit security system in place. That and adequate staffing on the premises safeguards our customers and their belongings. We also have intruder alarms.
Once you choose your storage unit, you will own the only key. In Bootle, self storage staff does not hold duplicate keys. No one else has access to your unit. You, on the other hand have unlimited access to your unit seven days a week. We have everything you need from packing supplies to handy trolleys for moving heavy items around. Prices vary depending on the size unit you select but you'll know you're getting the lowest price available because we won't be undersold by any facility offering the same services we offer. An additional service we offer is help moving your belongings to your storage unit using one of our removal trucks.
We have a guide to assist you in selecting the right size self storage in Bootle. In general, our 25 sq ft units are adequate to hold the contents of a single room. The 50 sq ft unit will accommodate the contents of a studio apartment and the 75 sq ft will hold a 2-bedroom house. The 100 and 150 sq ft units will contain the furnishings of up to a 3-bedroom house. The contents of your large 4-bedroom house can be contained in our 200 sq. ft. unit. If you will be relocating, this is where your belongings are safe until you're ready for them to be moved to your new living Contact Terry Lunt Storage. We have the solution to your business or domestic self storage needs whether long term or short term.