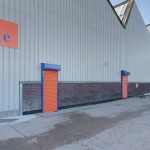 Take your storage solutions in Huyton to the next level by hiring a company that takes customer service seriously. Terry Lunt Storage provides storage solutions for both domestic and commercial clients. Whether you're relocating to a new area and have an excess of goods that you're not quite sure what to do with yet, or if you're doing a clean-up and need a place to store the unnecessary items for a certain period, or if you simply wish to keep some items separate from the others, we can help you. Your items will be safe and easily accessible so you can get to them whenever you need to.
Terry Lunt Storage has been in the business for more than four decades. In Huyton, storage solutions are provided with professional service, meeting your requirements and keeping to the standards that we have cultivated. We have an impressive track record for managing our customer's expectations so that they get the maximum out of our service. Our personal and self-storage solution is perfect for those who are downsizing or carrying out renovations. We have a variety of different sized rooms available, so you can choose the one that will suit your needs best. Whether it's the 25 square foot room or the 100 square foot room, you can choose a room that will comfortably accommodate your items. When it comes to business storage, we can accommodate those whose businesses are expanding or if you suddenly find yourself overstocked. We provide a tailored solution just for you. With a 200 square foot room available, you don't have to rack your brain wondering where to find storage space that will accommodate all your belongings.
If you need quick and affordable storage solutions in Huyton, do not hesitate to contact Terry Lunt Storage today. Should you require assistance, our team is at hand to help you with the move so that the transition can be that much smoother. We also provide professional advice. Our premises is stocked with trolleys and trucks to help you move your items around.