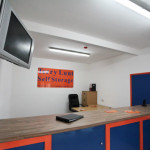 Business storage in Litherland is an excellent idea if your business has grown and you are running out of space for old documents and files. At Terry Lunt Storage, we understand the value of safe, convenient and affordable storage space for businesses. Speak to us about a tailored solution to meet your needs, and at competitive prices. We have provided convenient and safe storage solutions to many clients for over 40 years. Our storage facilities are secure, all have 24-hour CCTV coverage.  
If you are uncertain about the most suitable sized storage facility for your needs, our knowledgeable team can assist. In Litherland, business storage facilities are available in various sizes. For archives and business files, we can offer the smaller 25 sq ft storage unit. If, however, you need to store more than just files and documents, we can offer larger units. From 25 sq ft right up to 200 sq ft, you are sure to find the storage unit that you need. You can also make use of our handy size estimator which is available on request. We are proud of our quality service, and we won't be beaten on price or service. Let us provide a competitive quote for your perusal. We will both meet and exceed your expectations! Each of our storage units is clean, safe and secure. They are all protected with 24-hour CCTV, as well as an intruder alarm on the premises. And, as you are the sole key holder, you have the added security that no-one will enter your storage unit without your permission. 
Secure business storage in Litherland will bring you peace of mind knowing that your firm's archival material is safe, and out of the way. It is easy to get started. All you'll need is a photographic ID, proof of address, and a padlock for your own security. For more information about our business storage units, contact Terry Lunt Storage. You will also need to sign a copy of our terms and conditions agreement. We now also offer 35 sq ft units, along with our other units. Ensure your office has the much-needed space available, and consider one of our superior business storage units.