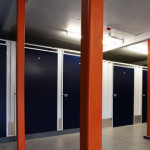 When you need self storage options in St Helens you want to be sure they are clean, safe and secure. When you rent a self storage unit you have the only key so you know your possessions are safe. Our units begin with a 25 square foot area which is similar to the size of a small van. This is ideal for a single room's contents. The 50 square foot unit is the size of a transit van or garden shed and ideal for the contents of a one bedroom flat. Our 75 square foot unit is of a similar size to a large van and perfect for the contents of a 2 bedroom house. There are times when you need a place to store excess furniture or documents and we cater for domestic as well as commercial storage.
You will sometimes need a safe place to keep your furniture while you redecorate your home. In St Helens, self storage options depend on the space you need. We have a 100 square foot unit that will comfortably hold the contents of a 2 to 3 bedroom home. This can be used if you are in the process of moving and need a few weeks to store your possessions. Our 150 square foot unit has ample space for the storage of a fully stocked 3 bedroom house. Our largest unit is 200 square feet and can accommodate all the furnishings of a 4 plus bedroom home. All these units are available for office storage or as an archive for documents.
We offer self storage options in St Helens for domestic and commercial use. Contact Terry Lunt Storage today and discuss your requirements with our helpful and friendly staff. All our units are clean and secure and we have 24 hour CCTV and security. There is an intruder alarm and fire protection so you can rest assured that your items are as safe as or safer than in your home. Our prices are very affordable and we welcome a visit so that you can see how clean and secure the units are. If you hire a unit you can access it any time of the day or night.