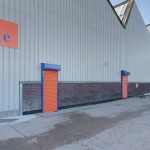 Find storage solutions in Liverpool if you have a space problem in your home. As a family grows, so space becomes less. What with all the toys, books, clothing and other odds and ends a family accumulates over time, it is small wonder that storage space becomes scarce. One sure way to free up space in your home is to have a jumble sale where you can sell all your unwanted goods, make a little bit of money and have the space you need. Just imagine if you announced that you plan on holding a jumble sale – your suggestion is likely to be met with cries of distress from your family!
To keep the peace, and free up space in your home in Liverpool, storage solutions from Terry Lunt Storage can save the day. Speak to us about our available storage units, and you are sure to find exactly what you need. Each storage unit is monitored by 24 hour CCTV, ensuring that your belongings are safe. We offer a wide variety of different sized units. Each unit is secure, well-lit and clean. You are welcome to store whatever you need in your chosen unit, as long as it is not alive, not highly flammable, perishable goods, or illegal. So for your children's Nancy Drew book collection or the train set with all its bits and pieces, our storage units are ideal. By making use of one of our storage units, you will get to free up much needed space, and keep the peace in your home!
Storage solutions in Liverpool are perfect when you are at your wits end. For more information about our available storage solutions, or to request a free quote, contact Terry Lunt Storage. We will not be beaten on service or price, and you can rely on our truly value for money service. Taking great pride in offering the most competitive pricing structure, we are able to match and beat our competitors! Pricing depends on the size of the storage unit. If you are uncertain about the size of the unit that would be most appropriate, you can make use of our handy size estimator, available on request.