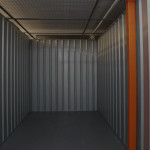 If you need safe storage in Kirkby, Terry Lunt Storage offers excellent storage facilities at affordable rates. There comes a time when you decide to remove all the clutter in your home to free up much needed space. The only problem with a huge spring clean is that you end up with 'stuff' that you no longer need but are loathe to get rid of. Things like your child's cycling equipment or the boxes of cookery magazines with delicious recipes you were going to try, one day. Consider a storage unit so you can keep the things you want without them cluttering up your house.
For your no longer needed but wanted items in Kirkby, safe storage is an ideal solution to the clutter problem. We have various sized storage units on offer, each well-lit and totally secure. From a small unit round the size of a garden shed to a unit that can hold a large home's contents, we are sure you will find just the right unit for your needs. You will be the only key holder, which increases the safety of your goods. All our units are monitored by 24 hour CCTV surveillance and each has fire protection in place. You can store just about anything in your storage unit, except any illegal items, live items or dangerous items. So a storage unit at Terry Lunt storage can be the answer to your cluttered house problem.
Safe storage in Kirkby is affordable too. We are proud to say that we will not be beaten on price, or service, so you will receive excellent value for money when you hire a storage unit. For more information about our different storage facilities on offer, contact Terry Lunt Storage. With over 40 years' experience in the storage sector, our family run business takes pride in the exceptional quality of services we offer. We have a n impressive track record for meeting all our clients storage expectations, and we can do the same for you. Our safe and secure storage solutions ticks all the boxes and you will wonder why you never thought of using our services before!