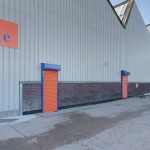 With the increasing emphasis on travel and minimalist living, storage in Huyton is an essential service. You might be a millennial that earns a WiFi-enabled living while backpacking around the world. Or you might be a couple whose kids are all grown and you're doing some global travelling yourself. Could be you just want a smaller living space, or have bought into the new, decluttered way of life. While a garage sale or charity drive may have taken care  of your excess baggage, there are always a few items you'd like to hold on to. What better way than to put them in storage?
For residents and businesses in Huyton, storage needs to meet several requirements before it is considered a worthy investment. It needs to be spacious, naturally. If you have a lot of stuff, you'd rather have it in one sizeable location than several smaller ones. At Terry Lunt, we have storage units ranging from 25 square feet to 200 square feet, so you don't have to worry about that. Another key factor in storage is security. Our containers are surveilled by 24 hour CCTV, so we have eyes on your prize at all times. Because all our storage units are clean and spacious, your goods will remain in top condition until you're ready to collect them.
At Terry Lunt, we provide storage in Huyton for both businesses and individual clients. We have a staff of friendly, skilled movers that can help you arrange your cargo just the way you like it. If you'd prefer to handle your own storage décor, you can freely use our trucks and trolleys and organise your storage unit to your liking. We also have a wide array of packaging materials. You can sort your items individually or in boxes. Contact Terry Lunt Storage today if you are looking for affordable storage options. We offer guidance on how to lay your items for added protection, and if you like, we'll help you secure goods that are more fragile or delicate using the right packing tools. Check on your goods at any time, and remove them whenever you need to. For storage options that promise you complete peace of mind, speak to us.