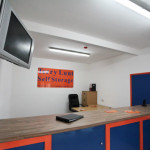 Make sure you find a storage company in Litherland who understands that your costly fragile items need to be stored with care. If you need to make more space in your home, or are moving house and need a safe place for your excess household items, speak to Terry Lunt Storage. We are a family run business, and with our more than 40 years' of experience in the storage sector, we believe our name is synonymous with quality and outstanding services. We know that when customers want to put their treasured possessions in storage, they want to deal with a professional company with an impressive track record of excellence, and that's us. Our services are offered to all our domestic and commercial customers.
A storage company is available for all your goods, so long as they aren't perishable, flammable, illegal or alive. In Litherland, a storage company like ours is affordable and the price you pay will be determined by the size storage unit you want. We have  different sized storage units for you to choose from. You can choose our smaller units of 25 sq ft or you can choose our 35, 50, 75, 100, 150 or 200 sq ft. units. Whatever one you settle on, you'll find them clean and safe. We make sure your goods are safely stored and our units are fitted with 24 hour CCTV and security alarms.  Also available are packaging materials, and whether its boxes you want, parcel tape, bubble wrap or packing paper, speak to us as we can assist you.  We want to ensure that our customers enjoy storage that is convenient, affordable and safe.
Choose a storage company that provides affordable and safe storage facilities. For more information about our storage facility options, contact Terry Lunt Storage. Our storage facilities are all protected by 24 hour CCTV, and as you will be the only key holder, you can rest assured that your household items are secure. Speak to us about an affordable quote, and we are proud to say that we will not be beaten on price and service.