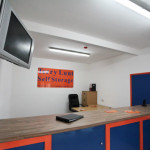 Business storage in St Helens may be necessary if you are running out of space for storing your files, documents and business papers. Documents need to be kept for a certain number of years before they can be destroyed. As your business grows, so does the number of documents and files. If you need more storage space, speak to Terry Lunt Storage. We have a selection of different sized storage units that are suitable for your office storage. Clean, safe and well-lit, they are available in sizes from as little as 25 sq ft to 150 sq ft. Why not contact us today for an affordable quote?
When your office is too small in St Helens, business storage from Terry Lunt is the ideal solution. All our storage units are clean, safe and all are monitored by CCTV 24 hours a day. Each storage unit has an intruder alarm as well as fire protection, making them secure and safe. You will be the only key holder for your storage unit, which adds to the security of your files inside. Our storage units can be used for your old files, documents and archived material. There is no longer any need to be concerned about where you will store them in your office. If your business' storage room is full to the brim, we can help you out.
Business storage in St Helens is a wonderful solution to an over crowded office. Contact Terry Lunt Storage today to find out more about our available storage units. We will provide an affordable quote and you will see just how competitive our rates are. Our professional team is also available to help you with your move, and can provide hands-on help and advice. You are also welcome to make use of our trolleys to move your files and documents to and around your storage unit.