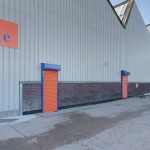 Thank goodness for storage in Bootle at Terry Lunt. A lot from people moving house or office are pleased to make use of this service. It would be nice if the moving process proceeded along smoothly on your schedule. You could take as long as you want to decide what to keep and what to dispose of. You could build in the storage shelves or closets needed in the new place before moving items to fill them from the old. The old office equipment could be sold before you buy new. Unfortunately, we have to cooperate with buyers, sellers and landlord schedules and not just our own. That means that occasionally there will be a gap that you have to fill during the moving process. You will need a safe place to store some belongings until the whole transition has taken place.
The most convenient and safe solution to schedule conflicts when moving house or office is, in Bootle, storage with Terry Lunt. Your book collection, special furniture pieces, old office furniture and files will be dry and secure at Terry Lunt Storage Units. There are many sized units and one will fit your needs. Maybe you are not moving at all but redecorating instead. It is efficient to move all the furniture from the house so you can zip through with painting and carpeting and then move it all back in. Maybe you do not think that is convenient. Well, Terry Lunt will pick up the furniture for storage and then redeliver it when you are ready to move it back. You know, the first month is free.
Storage in Bootle with Terry Lunt Storage is the answer you have been seeking. It is the perfect solution because your belongings will not be locked away out of your reach. If you would like to find out more about storage facilities, contact Terry Lunt Storage. The storage facility has convenient daily hours of operation when you are free to access your belongings on your own. The facility is well lit and under surveillance with CCTV for your safety and the security of your belongings. Of course you will have the only key to the lock. Short term or long term, Terry Lunt Storage can make complicated life changes a little bit easier.