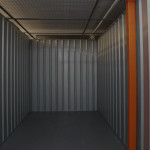 There are things you cannot put in self storage in Liverpool. If your landlord tells you to get your python out of his apartment building, you cannot hide it in a storage unit. Not even if the cage is tightly lidded. The simple rule is, do not place any living thing in self storage. A self storage unit is not the place to store your secret stash of fireworks until Guy Fawkes Night. Just because his didn't go off does not mean yours won't. A self storage unit is not the place for your Wednesday night high – stakes poker game. Terry Lunt Storage facility has closed circuit surveillance so you will never get away with it. Anything that is not alive, flammable or illegal can be stored in a self storage unit.
In Liverpool, self storage unit sizes at Terry Lunt Storage range from 25 sq. ft. to 200 sq. ft. There is a size right for everyone. It seems that if you have attic and basement space, you have no need for self- storage. However, even if you do not have mice in the attic and water in the basement, things still take on a musty smell when stored there. It does not take much dampness for moulds to grow and ruin books, photographs, electronics and fabrics. Keep your treasures safe in a Terry Lunt self storage unit. The units are sealed and dry. The interior and exterior is well lit and you will hold the only key.
Whole rooms of furniture can be stored at Terry Lunt self storage in Liverpool. You can store it for a few weeks until your new apartment is ready or for a year, while you are out of the country. Get it all together and Terry Lunt will pick it up and transport it to a storage unit free of charge. When it is time to retrieve your belongings, Terry Lunt will deliver them to their new location for you. Prices are affordable and the first month is always free. The premises are under surveillance 24 hours a day to keep your belongings safe as well as you when you come by to add something or pick up something from your unit. For more information about available self storage, contact Terry Lunt Storage.