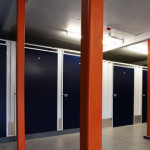 A storage company in Huyton can help when space becomes a problem. Over the course of your lifetime, you accumulate things. Some of these things can be valuable, and some of them are sentimental. For whatever reason, there may be things that you cannot part with, but you also cannot live with. There is sometimes simply not enough space to accommodate all your belongings. Cupboards are filled to overflowing; shelves are heaving under their load; garages are stuffed with possessions. The accumulation of things can cause stress in your life. You may not be eligible for a "Hoarders" reality programme, but you are still feeling the effects of having too many things and not enough space.
In Huyton, storage company Terry Lunt Storage could be the solution you need. It is highly recommended that you first sort your things before you put them in to storage. You could find that there are many things that someone else would love to have. You may want to pass things on to other family members or loved one. Perhaps, however, you are facing some emergency in your life and you need to store your things immediately: everything you have, with immediate effect. Whatever your circumstance, Terry Lunt Storage can help. Their storage units are clean and well-lit and it is easy to store things in this facility. They offer free local pick up, and this can help make your de-cluttering experience a much easier one. At the storage site Terry Lunt Storage offers the free use of their trucks and trolleys and you can move your possessions with ease. With Terry Lunt Storage nothing is ever too much trouble and they have the perfect storage advice for your needs.
Terry Lunt Storage is a storage company in Huyton that has built an impressive reputation through their professional services. Their storage facility is monitored 24 hours a day, keeping your belongings safe. Terry Lunt Storage will assist you with arranging insurance for your possessions, or you can arrange your own private insurance. When you need to store your personal belongings and are looking for a storage company, do not hesitate to contact Terry Lunt Storage.