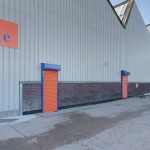 When you are looking for the right storage solutions in Rainhill, we're happy to assist. If you are moving to a new business premises, you'll need safe storage space for excess files and equipment. We offer secure storage facilities to keep your important documents safe while you relocate. Perhaps you're moving to a new home and it has less space than you need. Use our facilities to store your large furniture that won't fit in your new home. Run out of space in your garage? You can keep your tools at our storage facility so that you no longer have to park in the driveway. We are happy to offer a range of different sized storage units that will meet your specific requirements.
If you are clearing space in your home in Rainhill, our storage solutions are an excellent option. Resist the habit of dumping your stuff in the garage or attic. Space will soon run out, and your goods may become damaged from a leaky roof or resident pests. Renting one of our storage units means that you can access your goods when you need them, easily and conveniently. Our secure storage units are completely safe, dry and best of all, affordable. In addition, they are accessible when you need to collect an item that is stored. Protect your belongings against the damp, mould, pests and dust that may be present in a home or office by using our facilities instead.
We offer storage solutions in Rainhill that will suit your specific requirements. You may need a temporary storage solution immediately due to an unforeseen crisis, or a long-term solution for goods you will only need to use again in the distant future. If you are looking to store your belongings for 12 weeks or longer, we offer the first month free of charge. We also offer free quotes and free local pickups. Contact Terry Lunt Storage for storage solutions tailored to your needs.  The benefits are endless, from the use of trolleys and trucks at our facilities to a range of packaging materials available. We make storage hassle-free and affordable, giving you peace of mind.