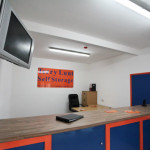 If you are looking for reliable personal storage in Rainhill, Terry Lunt Storage offers premium, high-quality options to suit your unique storage requirements. Whether your needs are in the domestic or commercial sector, we are glad to be of assistance. We have a wide variety of storage space options, ranging from 25 sq ft self-storage, across 50, 75, 100, 150 and 200 sq ft. Each one of these spaces is designed for different purposes. For instance, the 25 sq ft space is ideal for de-cluttering and can hold the contents of a single room or average garden shed. At the other end, the 200 sq ft space is similar in size to two Luton vans. It is right for holding the contents of a 4 bedroom+ property.
For our clients in Rainhill, personal storage is a good option if you're moving to a smaller home and don't want to get rid of all your stuff just yet. You may also be moving to a different part of the world on a temporary assignment and need space to keep your personal belongings safe. Ensure that you have a firm plan in mind before you choose a storage space. Base your decision of service provider on price, reviews, insurance and fulfilment of your own storage needs. You have to organise your belongings correctly so that you can access them easily when needed. Fragile items have to be packed carefully, and stacked safely. Our storage units offer flexibility in terms of space. You can store anything as long as it's not flammable, perishable, illegal or alive.
The price is based on the amount of space you require for personal storage at Rainhill. Use our convenient space calculator to estimate the amount of storage you require. If you need, we can also supply packaging materials and also pick-up services at any time of the day. For more details, contact Terry Lunt Storage. In the current pandemic situation, we are in compliance with all government regulations. All our storage spaces are clean, secure, safe and dry. They come with 24-hour CCTV monitoring and fire-protection. On top of that, the client is the only sole key holder.