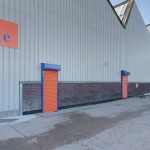 Business storage in Maghull is a need for which we have a solution. Our beautiful, clean and dry storage units in multiple sizes is the safest and most economical solution by far. Certainly, it's cheaper than renting more square footage in your office building because you're running out of storage space. It's also easier on your cash flow than renting a building or warehouse space to stock supplies used in your trade. Small business tradesmen often work out of their home and vehicle. They don't need office space and job material is picked up at the supply house before the job starts. Still, you need a storage space for special equipment when it's not in use whether it's a mini digger, 30' ladder or large pipe benders.
Not only are we a cheaper place to store overflow office records, unused furnishings and equipment as well as tools, it is also safer. In Maghull, business storage units at our facility are well-lit and under 24 hour CCTV surveillance. You are the only one with a lock and key so choose a solid lock and protect the key. You do have to insure your storage space and the goods but that's inexpensive. It's a lot safer than your home garage or basement against water damage and theft. When you have safe and dry storage space, you can take advantage of money saving sales on materials and supplies. You can stock up at low prices on products you use frequently.
For business storage in Maghull, we're centrally located for many businesses. You may not need frequent access to your storage unit but if you do, it's available 7 days a week. Consider short-term storage for office furniture and equipment when moving from one office space to another or while refurbishing your existing space. Contact Terry Lunt Storage and choose the size storage unit that will best suit your needs. We can assist with that task. Keep your equipment and supplies clean, safe and dry while you're not using them. Expand your storage space indefinitely for one low monthly fee. Remember, the first month is free.