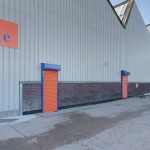 You'll be pleased to discover that you do have self storage options in Bootle if you find yourself at a loss. Over time, people tend to accumulate many items, most of which can be regarded as superfluous. Many of these items are kept for their sentimental value, or on the off chance that they will someday be needed. Regardless of the reason for keeping them, they still need to be stored in a safe, dry place. If your garage or garden shed is filled to the brim, perhaps it is a sensible idea to consider renting storage space.
By renting a storage unit, there will be no need to worry about lack of space in your home. In Bootle, self storage options are available at Terry Lunt Storage. We understand that people need to store personal items. Business owners are also obligated to store archived documents which can pose a problem if the workplace is not large. Our storage units are available in different sizes. You can choose from our smaller units if you need a space that is the equivalent to a garage. You could also choose from one of our larger storage units. The sizes vary from 25 up to 100sq ft. Each of our units is safe and secure as all are protected by 24-hour CCTV surveillance. You will be the only key holder which means even more security. Our storage units are clean, and are all well-lit. You are welcome whatever you need in your storage unit. There are a few items which cannot be stored such as anything alive, illegal, highly flammable and perishable.
You will be pleased that there are self storage options in Bootle for your personal items. If you would like to know more about our self storage units, please contact Terry Lunt Storage today. Our storage units are ideal for the items that you are keeping but no longer have the space for. Your daughter's doll collection, or your children's school reports can all be securely stored in one of our units until you need them. Now you can easily free up much needed space in your home!