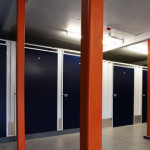 Look for storage solutions in Litherland when you are tasked with a garage clear out but don't want to throw out some of your belongings. Most people tend to hoard, keeping seemingly useless things that have sentimental value or evoke fond memories. Like the collection of comics you've kept for years assuming that some day you'll reread them. Or your daughter's Barbie dolls and accessories – thinking that perhaps her daughter would like them when she is old enough to play with dolls. Many possessions are well worth keeping, but take up valuable storage space.
To make more space in your garage in Litherland, storage solutions are a priority. We have a range of different sized storage units that would be ideal for your garage clear out. Ranging from the small units that are a similar size to one car garage to our really large units, you will be able to find the storage solution that suits your needs best. Each of our storage units are clean, well-lit and are safe as they are monitored by 24 hour CCTV. As the lessee of the storage unit, you will have the only key, ensuring extra safety. You are welcome to store almost anything in one of our storage units as long as it is not alive, dangerous or illegal. Our rates are competitive, and you will find that the service we provide is second to none. If, after using one of our smaller storage units, you find that you need more space, it is easy to upgrade to larger unit.
Storage solutions in Litherland are available for your garage clear out. Contact Terry Lunt Storage today and find out just how easy it is rent one of our storage units. We have years of experience in meeting the storage needs of our clients. When you speak to us about a quote for your storage unit, you will see how affordable our rates are. We will not be beaten on price, or on service. Our aim is to provide our clients with a service that will both meet and exceed their expectations.