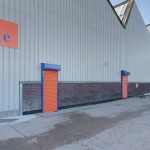 Free up your usable space and opt for secure business storage in Crosby from Terry Lunt Storage. We provide premium quality storage options for the business community that's safe, securely stored and monitored 24×7. This is the perfect option for archiving, or when you're moving to another location and want a safe place to store important items, or you just want a trustworthy general business storage option. Our premises are well-maintained, clean and dry. You can store any item, provided it's not flammable, perishable, alive or illegal. If you're unsure about any item that you'd like to store, talk to our experienced and friendly team and get the right advice and assistance. What sets us apart from our competitors is that we provide an affordable and customer-centric service designed to meet your needs, preferences and budget. Most of our work comes to us via recommendations from satisfied clients.
The pricing structure is calculated according to the size of storage unit you need. In Crosby, business storage units should be selected based on present and immediate future needs. Don't select one that's too small because your needs can change soon and you could end up paying extra for just a few more cubic feet. Make a detailed list of the items you want to go into storage and we can help you design the right way of storing them and with the size of storage space needed. If you have sensitive items, you may need climate controlled environments in your storage area. These are more expensive but if you live in an area that has extremes of climate, it's worth the extra investment.
Business storage in Crosby should ideally have excellent surveillance, fencing, gates, live guards and fire prevention facilities. Visit our facility to check out the features for yourself. Contact us today for more information about our business storage options. Remember that the location of your storage unit is important. If you need to access the stored items regularly, don't choose one that's located on the outskirts of the city. Though storage units based inside the city limits are more expensive, in the long run they're more convenient and cost-effective.