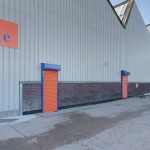 There comes a point in life where the possessions that you once valued are not as important as before and may be deemed fit for a storage company in Bootle. This is true if they are items that you are loathe to get rid of. People who are downsizing, moving out temporarily, or even adapting to a more minimalist lifestyle will find the use of self-storage unit quite beneficial. Not only will it help to maximise space at home, but once you are ready to use those items again or when you are ready to give them away, you can simply get them back from the storage facility.
When you are looking for a storage unit, make sure that they are secured. In Bootle, our storage company offers a number of different sized units.  They are all properly lit, clean and secure. Using a storage unit will ensure that you have more space in your home. Should you wish to upgrade to a larger unit at a later stage, we can offer a unit that will meets your needs. Speak to us for an affordable quote for the storage unit you are interested in. We have trolleys to help you with unloading and loading your belongings into your unit. You can also rely on our security as we have CCTV cameras strategically placed throughout the facility. We cater for both domestic and commercial clients.
A storage company in Bootle offers a wide number of solutions when it comes to storage. When you are looking for the services of a reputable storage company, don't hesitate to contact Terry Lunt Storage. With our many years of experience, can-do attitude and competitive prices, you can't go wrong by renting a renting a storage unit. You are welcome to almost anything in your storage unit. We do not allow the storage of items that are highly flammable, any perishable or live goods, illegal. If you are uncertain about what you may store, please speak to us for guidance. We are happy to say that e won't be beaten on price and service!