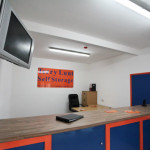 You might have to look for a facility that offers business storage in Kirkby if your current premises isn't large enough to house all your documents. While your business is growing and your hard work has come to fruition, it may not be the right time to move to a larger premises. An excellent solution to this problem would be to find safe and secure storage facilities. At Terry Lunt Storage we have a range of different sized storage facilities that will meet your needs.
Our storage facilities are safe and secure. In Kirkby, business storage is an ideal solution to storing your excess files and documents. We have storage facilities on offer from the smaller 25 sq ft to the large 200 sq ft. Each of the units are well-lit, clean and secure. They are monitored with CCTV throughout the day and night, and when you hire a facility, you are the only key holder. Our business storage facilities are ideal for any part of your business that you need safely stored, from archives, excess stock, equipment, to files of important documents. You can rest assured that your material is safe and secure.
Business storage in Kirkby is an excellent plan until the time comes for you to move to larger premises. You may find that our storage facilities are convenient and meet all your needs that when the time comes, you might continue using the facility. For more information about our available storage facilities for your business storage needs, contact Terry Lunt Storage. We also offer assistance when you move your business goods to the storage unit. Our friendly and professional team are on hand to help you with your move. They can provide advice and hands-on help, as well as the use of trolleys and trucks to manoeuvre your items. Should it be necessary, we can also provide the most suitable packing materials to ensure your business goods are securely packed. Don't let the lack of space become a problem in your office, and make use of our excellent business storage facilities.