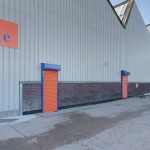 We offer storage solutions in Huyton for all your storage needs. Now is the time of year for spring cleaning, which inevitably reveals items around the home that need to be removed. If you are reluctant to throw out all these items, but no longer have the space in your home to accommodate them, why not consider long-term storage? Humans have a tendency to collect clutter and hoard our possessions, and a clear-out can be refreshing. Whether it's a cabinet full of old documents and records, a baby nursery that has been outgrown, a garage full of unused tools, or Grandmother's massive piano that's taking up half the living room floor, placing them in storage can give you more space without having to throw them out or sell them.
Your unused items are still precious to you, which is why, in Huyton, storage solutions offered by Terry Lunt Storage are the ideal option. We provide safe and secure storage for any quantity or duration. You can store your items with us indefinitely until you need them again. You may need a temporary storage solution immediately due to an unforeseen crisis, or a long-term solution for goods you will only need to use again in the distant future. This applies to small amounts like a single box or for larger amounts, such as a full house of furniture. This can be especially useful if you are relocating and cannot arrange a direct move. We employ the highest levels of security to protect your belongings while in storage.
Our storage solutions in Huyton offer comprehensive safety for your belongings. This includes protection against damp, mould, dust, pests and any physical damage. Our clean, well-lit storage units are much better equipped for safe storage than, for example, a garage or attic. Find the best storage solutions for your cherished possessions when you contact Terry Lunt Storage. We make storage stress-free and easy, from our impressive premises, security measures and affordability to our friendly service and assistance with free quotations, free local pickup service and our range of packaging materials and trolleys for your use.