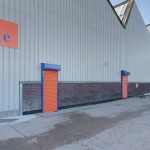 While exploring different self storage options in Maghull, make sure you select the right one that's appropriate to your needs, budgets and preferences. At Terry Lunt, we offer a wide variety of different choices to suit your exact requirements. However, before you select a self storage facility, do your homework thoroughly so you need not worry about the safety and security of your property or the privacy and confidentiality of your personal documents and private papers. Never pick the first storage facility simply because it comes up first on the top of your search page list or first on the list in the Yellow Pages. Many people also tend to choose a storage facility because it's located close to their homes or offices. Another common reason for choosing a storage facility is because they offer cheaper rates. Though these are reasonably good reasons, you could end up with something that's not quite suitable.
Picking the facility that's closest to home may sound like a great idea initially, although it may be too small or not secure enough. In Maghull a self storage option may work out a lot more expensive than one that's a little outside the main urban areas. Additionally, you may get a larger facility if it's a little out of town. It's important to check these features and do a comparative study and gather all the relevant data before you sign on the dotted line.
While picking self storage options in Maghull, check both the gate and office hours. Often, the gate hours could be longer while the office hours may be limited. In such a case, if you have any issues or problems, you may not be able to speak to anyone in authority if the office has closed by the time you get there. Contact Terry Lunt Storage for self storage options. You may also get important information from on-line reviews. Balance these opinions out with a personal site visit and then make the final decision.