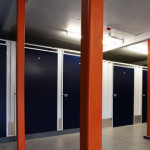 Take a look at the available self storage options in Bootle if you find it difficult to maintain the balance between your possessions and the space you own. Most of us today lead fairly busy lives that involve travel or relocation, re-organising, expanding or downsizing our space options, whether personal or business. Often, many of the objects we own are connected to personal, sentimental, family and important business-related functions and it's safer and more convenient to have them securely stored in a place where we're sure they'd remain free from theft and damage. We also need a storage solution that is within our own control. We at Terry Lunt Storage offer premium self storage options for a range of storage issues.
Earlier, we had limited options like removal companies or large-scale warehousing which provided restricted access, very little flexibility, long-term contracts and were also extremely expensive. In Bootle, self storage options like ours are based on your individual needs and budget. The rooms are well-lit, clean and extremely well-protected, with 24×7 CCTV surveillance. We provide the use of trucks and trolleys to move your stuff around at no extra charge. You can also avail of our top-quality packaging materials on-site. Just to make the deal sweeter, we give you some great add-ons like First Month Free and Free Local Pick-up.
When you use self storage options at Bootle, you're assured that you can simply drive up to your unit, move your things around, add or remove stuff, repack, reorganise or replace stuff in complete privacy and freedom, according to your changing needs. The storage unit that you've hired is accessible only to yourself or your authorised people. Contact Terry Lunt Storage if you would like to know more about our available self storage options. We don't levy fees for accessing your unit, or require advance notice before you arrive. We also allow you to use your own locks and security systems, giving you more control and peace of mind. Combined with our camera surveillance, guards and security systems, this ensures that your goods remain safe always. Self storage systems are constantly evolving to include more facilities, so call us for more information and a free quote.