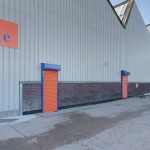 Finding the ideal location for business storage in Kirkby can be quite an exhausting quest.
Whether you need a temporary location to keep the extra items until you move into a new office or you are looking for a place for a longer period, security will be at the top of your priority list. As a business owner, your utmost concern is the safety of the papers that you are archiving and keeping everything else secured. Somewhere that looks easy to break into will have no appeal to you. In this respect, our 40 years in the storage sector give us an edge.
We pride ourselves on the quality of services that we provide our clients. In Kirkby, business storage facilities offered by Terry Lunt Storage will meet your expectations. Our priority is making sure that our clients' documents are safe in a secure facility. We have 24-hour surveillance as an added security measure. You will find that our prices are attractive, and we are currently offering discounted prices on our storage facilities. The first month of rental is completely free and you are eligible for this promotion if you are renting for at least three months, for which you will have to pay in advance. We also have a selection of storage unit sizes to meet your needs. Our storage space is clean, spacious and well-lit. If you are looking for a halfway house for your documents and files, give us a call for a free estimate. You will find our prices are competitive.
Business storage in Kirkby is popular because of our willingness to assist our clients with their specific storage needs. Contact Terry Lunt Storage if you are looking for safe, secure and affordably priced business storage. We also offer a free pickup service for clients who are based in the area.