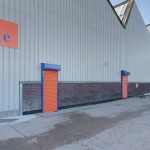 Self storage in St Helens is a way to store your things in a safe and secure place.  You may have moved and not been able to take all your things with you due to space constraints. Your precious possessions cannot be sold or dumped as you may need them in future. A self storage facility is ideal as you can remove items whenever you need them and return them to storage if space becomes an issue. You can be sure that the storage area is secured with CCTV cameras and is well lit. The storage rooms come in a range of sizes to suit almost every requirement – small rooms for boxes and large rooms for furniture.
If you need to safely keep excess documents in St Helens, self storage is what you need. Offices are often awash with paper, some of which have to be kept for a certain number of years before it can be destroyed. Office space is expensive and a self storage unit may solve the problem. You can access it at any time and can remove old documents for shredding and recycling. Excess office furniture and machines can also be stored in the units. There may be furniture to be stored while you are busy with a move and a storage unit is ideal. These rooms are made to be used by anyone who wants long or short term space which they can get in and out of whenever necessary.
Self storage in St Helens is a wonderful option for a little extra space. Contact Terry Lunt Storage today for more about self storage options and clear out all your excess baggage and make some space. The rooms are clean and secure and Terry Lunt Storage have the size to suit your needs. The helpful staff can advise you on the size of the room when you discuss your storage needs with them. The storage rooms are very reasonably priced and individual rooms are available from 25 square feet up to 200 square feet.